***WARNING: THIS WIKI MAY CONTAIN SPOILERS IF YOU ARE NOT UP TO DATE ON THE SERIES***
Welcome to the The Land
Welcome to "Chaos Seeds: The Land" Series Wiki by Aleron Kong
Tricked into a world of banished gods, demons, goblins, sprites and magic, Richter must learn to meet the perils of The Land and begin to forge his own kingdom. Actions have consequences across The Land, with powerful creatures and factions now hell-bent on Richter's destruction.
Can Richter forge allegiances to survive this harsh and unforgiving world or will he fall to the dark denizens of this ancient and unforgiving realm?
A tale to shake "The Land" itself, measuring 10/10 on the Richter scale, how will Richter's choices shape the future of The Land and all who reside in it? Can he grow his power to meet the deadliest of beings of the land? When choices are often a shade of grey, how will Richter ensure he does not become what he seeks to destroy?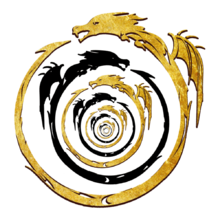 P.S. - Gnomes Rule
The Chaos Seed Series
Currently there are 8 books in the series. The first 7 have been released in book, kindle and audiobook formats! The 8th book is currently only available in kindle format.
Links
Website: www.LitRPG.com
Amazon Author Page: amazon.com/author/www.litrpg.com
Patreon: www.patreon.com/AleronKong
Forum: forum.litrpg.com
Newsletter: litrpg.com/newsletter
Blog: https://www.litrpg.com/litrpgblog/
Youtube: http://www.youtube.com/c/LitRPG
Street Team: inyurl.com/LitRPGStreetTeam
Compendium: The Land Compendium by Kalset
The first EIGHT books of The Land are now on AUDIO, you can check out free samples below! https://www.youtube.com/watch?v=BAF7vybpq7Q
You can also buy it on Amazon: https://www.amazon.com/Land-Founding-LitRPG-Chaos-Seeds/dp/B0713R1FSK OR
Audible: https://www.audible.com/pd/The-Land-Founding-A-LitRPG-Saga-Audiobook/B071DNLS1F
GNOMES RULE!!!